The Magic Formula for Retaining Talent at ICEO: Our Veterans Discuss Their Long Tenure and the Reasons behind It
Karolina Kondrak
14 min of reading
In the corridors of our office, or rather in the virtual rooms, one can meet a very special group of five. They are true heroes, although this may escape the notice of casual observers, because, as befits superheroes, they do not flaunt it at all, and leave their masks and capes at home (unfortunately!).
Their superpowers? Unwavering determination, loyalty and invaluable experience. Today, we introduce five of our company veterans! Their perseverance and flexibility have enabled them to survive difficult times, adapt to new technologies and grow with the organisation.
Their professions are in high demand in today's job market: according to the No Fluff Jobs report, 50% of IT employees change jobs every two years. Meanwhile, they have been with us almost since the company's foundation, that is, for more than a decade. It is with great pride, and a teary eye, that we want to proudly acknowledge this today and thank them for their trust, dedication and support.
Together we travelled back in time to the past, when they started their careers at ICEO. We took a look into the future and compared it all with the present time, when they already hold other positions, sometime very different ones.
Let's hear what they have to say.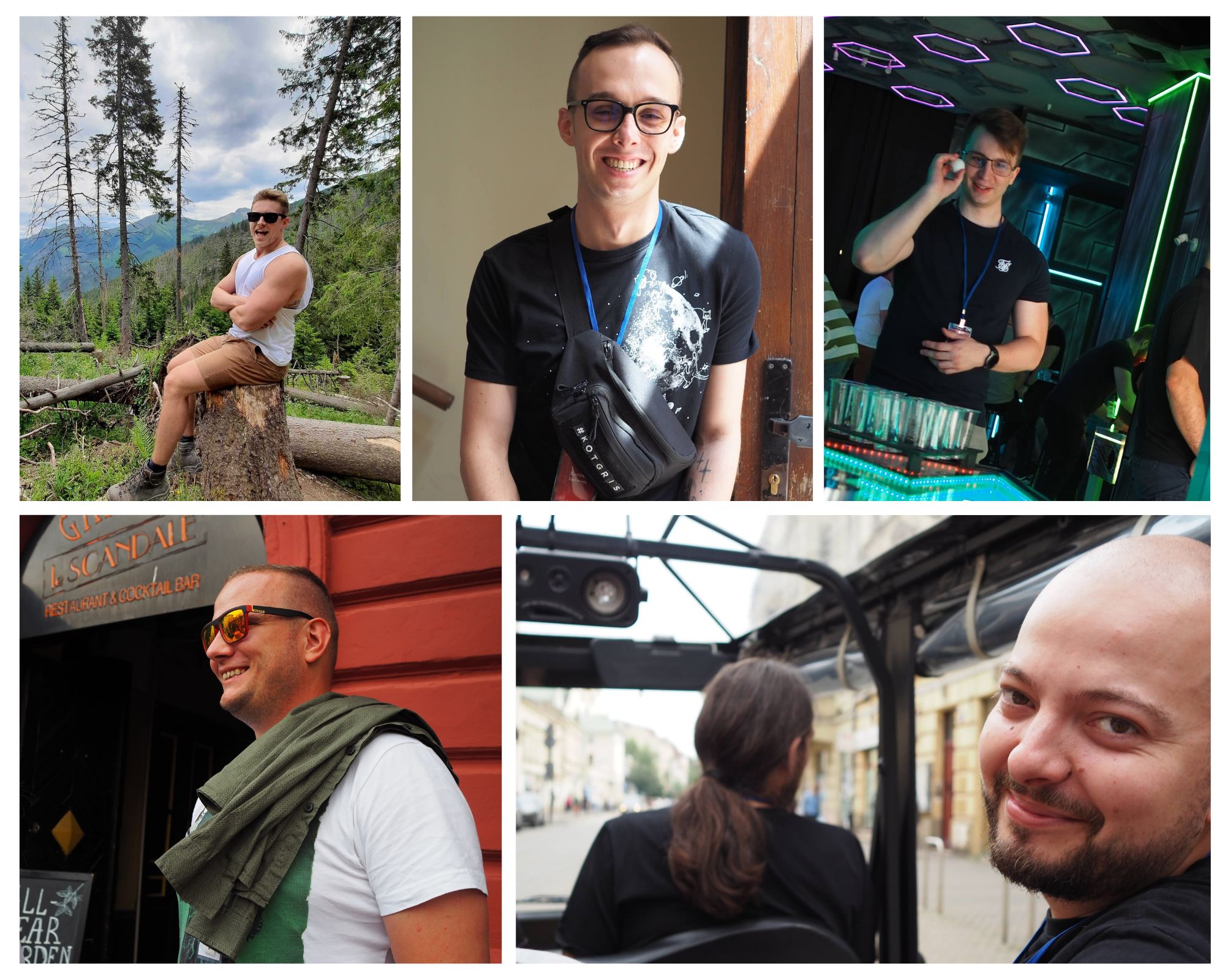 ICEO must have a hidden talent for retaining the best for a long time. What do you think is the magic formula?
Damian Zachwieja: For me, working at ICEO is simply meaningful. We do things that really work. They provide challenges and development. The secret power? Definitely delivering. Meticulously executing plans and aiming for a specific result.
Also I simply like the company. Of course, over these ten years it has not always been perfect. There were harder times and moments of doubt. But at the end of the day I just enjoy this place, the people and what we create together.
One of the strengths of ICEO is Wojciech Sroka (CEO) himself. After talking to him, one immediately becomes calmer. In addition, I was attracted to ICEO from the beginning by the vision and ambition. I just felt that great things were going to happen here. And that we would do something cool.
Mateusz Sokołowski: For me, it's a few factors. Firstly, the fantastic atmosphere. You can really go to work with a smile on your face. Secondly, ICEO is a great place for ambitious people who want to learn, develop and be challenged. It gives you the opportunity to work with modern technologies. We are probably one of the best companies in Poland in FinTech, Blockchain, Web 3.0 areas.
New employees also get a lot of support from managers and from the team: everyone knows they can ask for something, that the boss will not be angry, but will advise or refer to someone for help. You don't have to stress about what you don't know yet, because here you will certainly learn quickly. When someone comes to us and gets such a big input, knowledge, they just tend to stay.
Mateusz Sowa: What I appreciate most here is the approach like that of colleagues, not just employees. Everyone has a say in what happens. We have a very open mindset about it. I feel that I am knit together strongly with this company and I just like what I do. I like the fact that I can choose technologies and solutions myself.
Michał Koniuszko: I think ICEO's hidden talent is Wojciech Sroka, with whom you can talk about everything and he creates a relaxed atmosphere. The approach to the employees. The fact that you can have an impact on the project, and no one is treated with condescension. We're not stagnant, we're developing all the time and we create quite good conditions for that, in my opinion.
Adam Kamiński: We are not afraid of challenges and we can be persistent in pursuing our goals. We are able to solve problems. Additionally, I feel that the success of the company is shared. If things go well in the company, all employees benefit. And there is no boredom. At ICEO we work on our own projects, we can also come up with our own solutions, and since nobody wants to work on boring things at our company, it is always interesting.
You have been at ICEO since the early stages, almost from the beginning. A lot must have changed over that time. Tell us about it. And by the way: where do you see ICEO in another 10 years?
Adam Kamiński: Certainly the attitude towards the employee has not changed. Everyone treats each other with respect here. We have had to put procedures in place, otherwise there would be chaos with such an expanded organisation. But there is still no bureaucracy, we get things done quickly and efficiently.
And the change from product house to venture builder is, in my opinion, very much to the advantage. We can decide for ourselves what projects we take on. And since our executive team is technically strong, the projects we do are realistic. Their visions are feasible and as a result, we create solutions that work.
Damian Zachwieja: A lot has really changed, a huge progression. We were a small team and now there are almost a hundred of us. Today, with this larger number of people, everything is much better organised. Each person knows what they have to do and it all clicks together.
Looking at what has happened in the last ten years I think ICEO in another decade will have several times as many startups as we do now, with at least a few big ones that are more successful. Wojciech has always been very ambitious. He had a vision of a company that would achieve a lot. His passion was also shared by others, which is why I felt from the beginning that with his mind everything can succeed.
Mateusz Sowa: I have a vision that we are a company that creates high-tech things. That we have an office in a skyscraper with a helicopter on top and a slide down. A combination of professionalism and fun. That we create just such high-tech things. Maybe even space technologies. And the beginnings: I had to learn a lot... From the very beginning at ICEO we were focused on learning, we wanted to learn a lesson from every single thing we did. And yes, mistakes happened, but we always made it clear that we could count on each other. It was being thrown in at the deep end, but always with a lifebelt. I can still feel that support.
Michal Koniuszko: When I joined the team there were literally just a few of us. Now there is more going on in the company, there are more opportunities. We have changed the management system, which has made our work very efficient. From a rather flat structure, we have developed into quite a large organisation, creating many interesting projects in which there is something for everyone. And everyone can contribute to them. As you can see, the changes are very positive.
Looking strictly at ICEO itself, I think there will be growth. We will keep increasing the number of people employed, there will be more projects going on at the same time. This world is changing so fast, it's hard to predict specifics.
Mateusz Sokołowski: For me these changes are definitely for the better. At the beginning we looked like a typical start-up. There was a lot of work, but also a lot of fun and laughter. and it's actually still like that today. Nowadays, we have many things structured. We have created departments that are responsible for different competences. We are able to work on several projects at the same time. The organisation is growing fast, which also shows how much we have developed in the last few years. After these 7 years I still come to work with a smile on my face. I never get stressed about work, I am always positive about it. Even though I can work remotely, I enjoy coming to the office, meeting people, talking, laughing.
I think that in 10 years' time we will be a corporation, but not the typical corporation that's in abundance, but we will be the first corporation with a great atmosphere all the time and with people standing at the door hoping for new vacancies.
You told me what the development of the company was like, and what about your growth? What has your journey looked like?
Damian Zachwieja: I joined ICEO as a developer in 2012. The company was just starting out and I was still in a vocational school. I remember my impression: the company has big ambitions and a desire to build something big. And that spirit is still noticeable.
Although it wasn't yet a standard on the market, I worked remotely from the beginning and didn't experience the charms of the first office, but I know it was located in the basement under the stairs. Our current office in Kraków is the fourth one and looks completely different.
Michał Koniuszko: My development has been huge: from junior to Head of Development in a new fintech project. I started as a Full Stack but it quickly became apparent that I would perform better as a backend developer. This required a change of programming language from PHP to Java. As the next project developed, I was able to prove myself in system design and managing a small team. The next projects brought along Scala, a promotion to senior position and a larger team. And recently I became Head Of Development in another new project. I think I am a living example that there are great opportunities for promotion and development at ICEO.
Mateusz Sokołowski: My path was as follows: I joined ICEO as a technical and customer support employee. A year later, in addition to the support itself, I also tried to bring new clients to the project. At some point, there was a need for technical support for the BitBay exchange, to which I was transferred. As the months went by, the support started to grow, and I had the role of training new people, and at some point, taking charge of the whole department for a while. At the same time, I started to take my first steps into the world of finance and began to support ICEO itself in this area. And I currently run the Operations department.
Mateusz Sowa: I started from the position of Key Account Manager and I can't hide that at the beginning I was a bit overwhelmed by it. But the people at ICEO were very nice. I could feel their professionalism and I could see that the company operated in a very thoughtful way. This made it a lot easier for me. I felt energised and, despite a bit of stress, I was very positive.
From the very beginning the atmosphere was great. We had an immediate connection with each other. We often made jokes that it's better not to talk about in public 😉 . From the beginning we felt like a bunch of good friends.
Adam Kamiński: With me it started with an assignment, it was a spontaneous collaboration. I had to build five websites. After this assignment, we immediately talked about the possibility of permanent cooperation. When I started, I was a full-stack developer. Only later did I specialise as a Frontend Developer and today I am a Senior Frontend Developer. Even though it was my first serious job, I didn't feel stressed. From the very beginning, the team was friendly, open and supportive. I had no problem integrating.
What was your biggest challenge, what are you most proud of?
Mateusz Sowa: I was given the challenge: 'Sowa you are going to become a DevOps'. That's what Dawid Duniec said to me and that's what happened. Being thrown in at the deep end is good, you can learn and develop faster.
Michał Koniuszko: I consider my biggest achievement to be the creation, development and, most importantly, maintenance of the largest cryptocurrency exchange in Poland. A production system that was used daily by tens of thousands of people, with a daily turnover in the millions. I was responsible for some pretty critical things, so I'm very happy that it's still working today.
Mateusz Sokołowski: I remember the first time I thwarted a hacker attack on a user account. At the time I was very proud of myself. But to be honest, I'm most proud of the fact that I've gone from being an introvert to an open person who likes people. For me, that's a great deal and makes my everyday life a lot easier.
Damian Zachwieja: To quote Wojciech Sroka as of 2013: "Listen Damian, there's this bitcoin, we're going to do an exchange. Take a look at how it works". I am proud to have been directly involved in building the blockchain environment in Poland and the first products that were associated with it. Of the startups that we built and that are still in business. Of the fact that the fintech systems I was involved in building have completed transactions of hundreds of billions of dollars. That's a lot.
Adam Kamiński: I'm most proud of the things that have been the biggest challenges. For example, setting up BitBay and securing it against hacking attacks. Then taking over the whole frontend department at BitBay.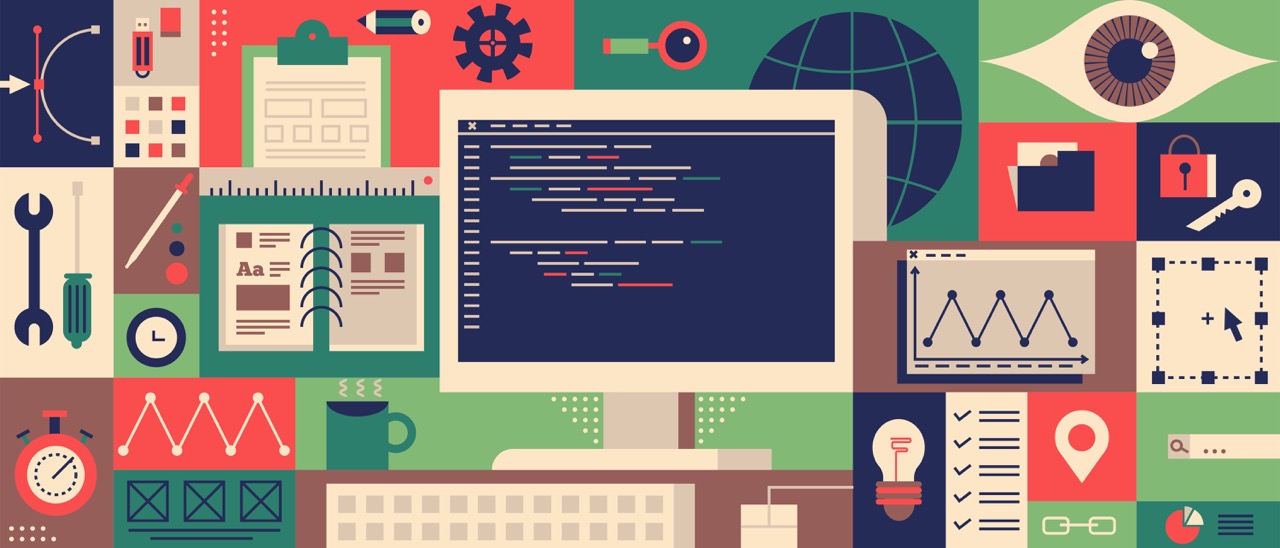 Do you have a favourite story or moment? What is particularly etched in your memory?
Damian Zachwieja: There are many memories I like. There are the pleasant ones where we would play together at parties or our weddings. There are those where it was tough and we were looking for solutions, to keep going we had to convince one of the partners for a new project. Which by the way was a success.
But there are also those where we had to put out various fires. And we were in it together. There are two such situations that I remember the most – and in both of themit was a case of dealing with it during the weekend or at night. And both Wojciech and Dawid were always beside us – we solved problems together.
Mateusz Sokołowski: What I remember most is all the support I received. First from Mateusz Sowa, he was the one who mentored me on my first project at ICEO. He helped me with many things and eased the atmosphere when I was stressed about something. Then from Wojciech Sroka, our CEO. It was great that Wojciech was able to motivate everyone. Even when I thought that nothing was going to work, he would come and tell me that you can do magic here, make a phone call there, have a chat here and it'll be fine. It was working for me 😉 .
Michał Koniuszko: There was a lot of it, it's hard to choose anything. For example, we once drove to take one of the front men home, somewhere on the outskirts of town. Then the driver decided that he didn't need navigation, so we drove back for an hour and a half through the other end of town. But at least it was fun.
We have always supported each other and could count on ourselves. We have always stayed on a friendly basis. It wasn't just at work and continues to be so. Even though the organisation is growing we can still count on each other.
If you were to recommend working at ICEO, what would you say? Do you have any advice before their first day?
Michał Koniuszko: ICEO allows you to grow and move up in the company structure. You can have a real impact on the project regardless of what you do in it. Well, and you won't find a better team 😉.
On day one, remember, even if your skills are lacking, just show a willingness to learn and grow and you will be fine.
Mateusz Sokołowski: If you are a person who can work with a lot of intensity, who can learn and is interested in personal development, and at the same time you want to work in a company where there is a super atmosphere then come on in, you won't regret it.
Have some good jokes ready, because we like to laugh. Feel free to try even with a sharp wit and be prepared for the fact that at ICEO we can talk about anything, without beating around the bush. Therefore, be yourself.
Mateusz Sowa: I recommend ICEO to people who really want to grow. We are a very ambitious company and we have ambitious people working for us. We care about high quality solutions. We work on difficult challenges in a relaxed atmosphere. We all respect each other and treat each other like friends.
Adam Kamiński: ICEO is definitely a company for people who like challenges. The projects we run are really interesting. You can introduce new technology and test it. If someone doesn't want to stick with one product for ten years, in that case ICEO would be the perfect choice.
And before your first day at work? Save the shirt and suit for another occasion. I think that's it, because there's such an atmosphere at our company that you'll easily integrate with the rest of the people.
Damian Zachwieja: I would say that the work is demanding, but the opportunity to develop, the atmosphere, the variety of work make up for it. You can move forward and build something great in the process. My advice: first of all - join! And that is the best tip in my opinion :D.
What words do you think best describe working at ICEO?
Damian Zachwieja: Going forward, shoulder to shoulder.
Mateusz Sowa: We work on difficult challenges in a relaxed atmosphere. That's it in a nutshell.
Michał Koniuszko: At ICEO, there is no such thing as a small-timer programmer. Everyone has a voice.
Adam Kamiński: First of all, trust. I know that if something has been said, it will be done.
FEATURED
Damian Zachwieja, Lead of Research & Development
Damian Zachwieja joined ICEO in 2012, at the time he was a vocational school student. He started as a programmer by preparing a system, which was the basis for many subsequent projects. From 2012, he was a developer, project manager and product owner. Since 2021, he has been a leader in the Research team.
Mateusz Sowa, Lead of DevOps
Mateusz joined in 2015. He started out as Key Account Manager, while also dealing with servers, he later navigated his way through technical support, programming, testing, until Dawid Duniec said to him one day: Sowa, you are going to be a DevOps.
Mateusz Sokołowski, Lead of Operations
Mateusz joined ICEO in 2016, his recruitment interview turned into his first day at work. Mateusz's first responsibilities were technical and customer support. Over the course of 7 years, he worked on several projects and today manages the Operations department.
Michał Koniuszko, Head of Development at new fintech project
Joined ICEO in 2015. He still remembers the PHP days 😉 . He met our team after they had played games all night. He knew immediately that he would fit in here. Having been with us for over eight years now, he still thinks he won't find a better team. He started out as a junior and is now Head of Development in a new fintech project.
Adam Kamiński, Full-Stack Developer
Adam Kamiński came to ICEO in 2014 through an internal recommendation. It was supposed to be just a weekend assignment, which turned into already a 9-year adventure. He started as a Full Stack, meaning he was responsible for Backend and Fronted. Nowadays, he focuses on Fronted and is successful in carrying out more and more projects.