Norion: Everything you need for tokenization
Wojciech Sroka
7 min of reading
We have known for a long time now that blockchain is not just about cryptocurrencies and that this technology has much more to offer. We have already proven it's a durable medium by co-creating DoxyChain. Now it's time for another challenge with a much broader range of possibilities - tokenization.
Today we introduce Norion, which offers the full range of tokenization. From preparing token issuance for any asset to comprehensive advisory services n terms of legal, strategic and marketing, technological support for tokenomics and smart contracts development, secondary market listing and liquidity.
Tokenization is the process of transferring any asset into the digital world and representing it in the form of a token - a data element on the blockchain network that contains information about the tokenized asset. The possible applications are almost unlimited.
Copyrights are undergoing a digital revolution
First, we can tokenize copyrights and property rights. In this context, there has been recently a lot of talk recently about tokenizing art and music through the use of NFT tokens. Auctions of tokenized works have already been held by globally recognized houses such as Christie's or Sotheby's. Giants of the Polish art market such as Artinfo or Desa Unicum have also agreed to work in this direction. There are also artists tokenizing music. This spring, the musicians of Kings of Leon were the first to announce the sale of the NFT token for their entire music album - a limited edition version of "When You See Yourself", which earned the band $2 million. And it's no wonder. These industries have always struggled with the problem of counterfeiting and intellectual property theft on a global scale. It's estimated that the music industry itself may have lost as much as $9.8 billion in revenue in 2018 due to piracy.
Tokenization of copyrights and property is a way to seal the art trade system and solve the problems of the music industry. NFT tokens (non-fungible tokens) are characterized by the fact that each of them is completely unique. That is why they are used as certificates of authenticity and allow you to monitor transactions in the art market or track the movement of products in the supply chain, including in the luxury goods industry.
Business tokenization accelerates development
However, a better example of the sense of using tokenization than rights to works, in our opinion, are investments, especially those in assets that have high capital requirements (artworks, antiques, derivatives) or projects (companies, startups, real estate, initiatives of social importance). In these cases, funding through tokenization can be easier and faster than traditional forms (IPO, crowdfunding, VC, loans). Tokenization can reach a larger number of small investors from anywhere in the world, limiting the role of intermediaries. This opens up the possibility of realizing ideas that would otherwise have no chance of being implemented.
There are several token issuance solutions to choose from, including STO and UTO. STO, i.e. Security Token Offering, is the issuance of tokens that reflect securities. Utility Token Offering (UTO), on the other hand, allows for the issuance of tokens that can be used directly in the ecosystem of the tokenized company in the form of bonuses, voting rights, or equity stakes in investments. It is a much broader concept that can be applied to more projects. Its advantage is also that it focuses on the long-term development of the company by encouraging community participation.
Norion: the answer to the real challenges of tokenization
Given the multitude of potential applications and our previous experience with blockchain technology, we at ICEO decided to create Norion. We built the company from the ground up, initially supporting it with the resources of our best specialists, which enabled a quick start and provided a recipe for independent development. But why did we make such a decision?
Norion is a response to the current state of the business tokenization market (startups, firms and large enterprises). Almost every day we hear about a new token whose purpose is usually to get funding quickly, followed by a period of speculation on the exchange rate that is often a harbinger of the project's inevitable agony. Some tokens are shells that have almost no long-term value to investors.
In our opinion, however, such a situation is not the result of bad intentions, but of a lack of awareness that things can be otherwise. Token creators often do not know how to start working on tokenization, design tokenomics that are attractive to investors, take care of handling important activities after the token is issued, and finally build an engaged community around a particular project. Norion's goal is to provide anyone who wants to use tokenization with an ecosystem around the token that offers real value to its owners.
One-Stop-Shop for Tokenization
Norion is a one-stop-shop platform for tokenization, which means more than just issuing a token. Norion offers the full spectrum of consulting services (legal, strategy, marketing), technology (building tokenomics, smart contracts) and business (listing on secondary markets and taking care of liquidity) necessary to grow the value of the token over time. This approach is open to anyone who wants to tokenize, even if they do not have advanced knowledge in the field.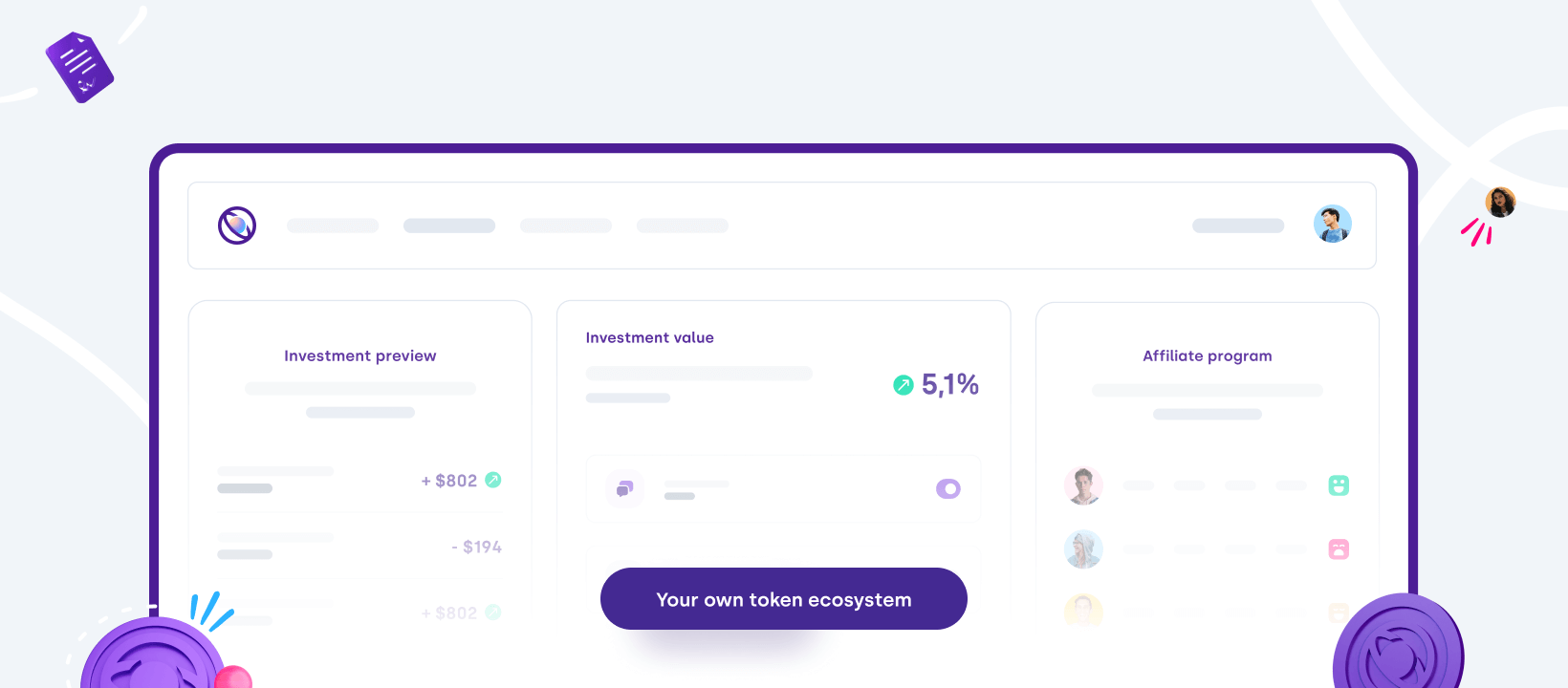 norion.com
Effective tokenization is the use of a token not only as a tool to raise capital, but also as a means to achieve a specific business goal and build a strong community involved in the development and promotion of the project. The customer's collaboration with the Norion team creates a complete and customized tokenization ecosystem that can be extended at will with new elements attractive to both the issuer (reports, integration with payment providers, communication and sales modules) and investors (mechanisms for voting, staking or social modules).
Norion was launched as our newest startup in August 2021. We have allocated 4 million Polish zloty to build the company from scratch. Currently, Norion has over 40 potential customers with whom discussions are underway to build tokenization ecosystems. The first implementation agreements have already been signed and we will provide information about them in the coming months.