More effective document management thanks to blockchain. Interview with the CEO of DoxyChain
Justyna Laskowska
7 minutes of reading
Gabriel Dymowski is a flesh-and-blood startup developer. CEO of DoxyChain, entrepreneur mentor in Lesław Paga's Young Innovators program, of which he is a student himself. Member of the working group in the Ministry of Digital Affairs for distributed ledgers and blockchain.
Hi, Gabriel. Glad you found time to talk about your work, and the project you're currently implementing.
Hi, thanks for having me.
You're the CEO of DoxyChain. Please tell us what DoxyChain is and what makes your solution unique.
We are building a platform for document management in digital form, in a simple and secure way that no one in the market has done before. To do this, we've developed a blockchain protocol that provides system transparency, at a level not previously available in SaaS services for the broader SMB market.
Where did the idea for such a use of blockchain technology come from? Are there already projects similar to yours on the market?
There are projects that use this technology in the field of document management. The market of digitalization is growing, and so are the application areas for blockchain technology. It is obvious that the security of transactions, including documents, will be one such application. Nevertheless, after analyzing the competition, we know our competitive advantages. Not only does DoxyChain use the Blockchain as an untouchable database, but all actions that take place on our document flow process platform are sewn and enforced from the blockchain layer, thanks to the clever use of smart contracts.
Do you think this technology will spread to other industries? What future do you see for blockchain-based solutions?
I am far from convinced that it is a technology similar to the new internet. But it is a technology that certainly has a wide range of applications ahead of it. Especially when it comes to trust, and where trust has not been or needs to be, this technology will enable new business models. As many benefits as there are to using this technology, there are also many risks and legal restrictions. Therefore, before using this technology, one must think very carefully whether it really makes sense to use it.
The future looks interesting. But let's go back to DoxyChain. What was and what is the biggest challenge for you in this project?
First of all, to create a clear, sensible and realistic concept to present to the investor. Without this, we would not have received any funds for implementation. So, we needed experienced people to help us rethink the usability of our product and develop the feature set of the MVP. In this regard, the support from the ICEO team proved to be extremely important. Not only does it provide us with invaluable support in this area, but it is one of the few companies on the market with years of experience working with blockchain technology and security issues. We use one language, which makes collaboration much easier and leads to good results.
Is that why you chose ICEO as your DoxyChain partner?
Yes, exactly, but not only that. The people who work at ICEO have the rare ability to see further and more comprehensively. Thanks to their approach and practice in implementing many startups, they helped us develop a business model and strategy. The joint workshops helped us a lot when it comes to creating the final DoxyChain concept. I also had the pleasure of meeting the CEO of ICEO, Wojciech Sroka, thanks to another blockchain project we worked on together for the Warsaw Stock Exchange.
In your case, did confronting your ideas about working on a startup project with reality lead to any interesting observations? Did you discover things you didn't expect before, or a gap in knowledge that no one taught you and you couldn't read about in guidebooks?
Hmm, that's a very interesting question. After all, the Polish VC and startup market is still growing, we are waiting for the first Polish unicorn. We have to say it frankly - there are still few successful entrepreneurs in Poland. That's why most of the knowledge taught in Poland is theoretical. How to prepare a deck (a really good deck)? How to talk to European funds (and that's a different conversation) We won't hear it from the people who founded, acquired and sold the startup. In most cases, it's just a theory.
I know DoxyChain is still being worked on. Tell me, what is the team currently working on for the MVP version of your product?
Recently, very talented people have joined our team who will be mainly responsible for the business part of DoxyChain. We currently have sales, technology, legal and business expertise. Combined with the knowledge and experience of our business angels, our team is very diverse, and we have a cross-section of skills in one project.
I assume that you all work remotely. Do you have difficulty coordinating activities in this situation? Do you have people on your team who have functions to keep everything together? Maybe you have patents yourself to work more effectively behind your desk at home?
People who work in Warsaw try to be in the office as often as possible to share a cap of coffee and not forget what everyone else looks like. That being said, the vast majority of the team works remotely. We hear each other every day, and such a distributed work system is standard in tech companies today. We don't have a specific patent for it. We call each other often, we have webcams on, we respect each other's time, and we trust each other. Everyone knows what their role is in the project and what the shared vision of our startup is. This drives us to our daily efforts.
With such an organization, we will probably soon see the results of your work. So, who will be the first customers of DoxyChain, when will the product be available?
First of all, we are going after the law firm market with our service. But we know we can deliver just as much, if not more, value to corporate clients. Especially when there is a relationship between a large company and a smaller client and there is a need to ensure the integrity of the document. This is the case with companies such as insurance companies, energy companies, telecom companies and even banks.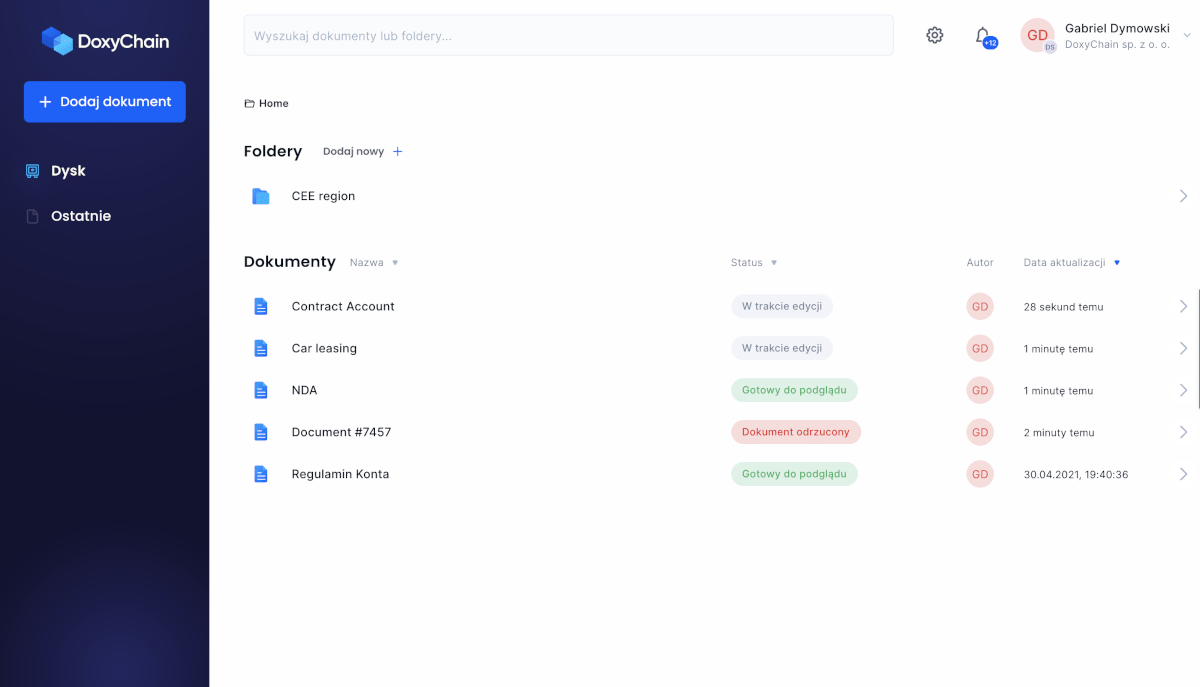 View of the DoxyChain document management panel


Do you think your product is scalable and ready to enter new markets? Are you planning to expand?
Absolutely. We have built a solution that will allow us to compete in the European market right from the start. Of course, we plan to expand directly to Poland to the German market, where one of our co-founders lives and works. We already have a good dozen companies from the German market on the waiting list that are very interested in our solution.
What are your goals for your project? When will you consider DoxyChain a success?
The long-term goal is undoubtedly to create a new standard for document management, where our customers maintain the nodes of the blockchain network and contribute to the system with us. In the short term, we want to get valuable feedback from our customers on how we can best adapt the product to their needs so that it scales and becomes a platform of choice for enterprise documents. As with any startup, what funding we use to build our startup will be extremely important. That will also largely determine the long-term success of this project.
Time for congratulations. Last year you were included in Forbes magazine's prestigious "25 Before 25" list of the most entrepreneurial young Poles. It is said that this is a group of those who want to change the world. Do you want to change the world? What do you think stands in the way of startups in Poland implementing their ideas?
Thank you very much. Undoubtedly, the conditions in which we develop have a great impact on how we perceive our future or the potential of that future. As I mentioned before, in Poland we don't have people who take you by the hand and say it will be so and so, do it this way, and you will be successful. Although that can be a good thing ... I generally emphasize it every time - as Gabriel Dymowski I am just a result of the people I work with, my partners, investors. The publication in Forbes is largely our collective achievement, not just Gabriel's merit ... Poland is certainly not a "land of milk and honey" for building startups. Fortunately, we live in the times of a global village. We can use the knowledge and potential of global standards while living and working in Warsaw.
What advice would you give to young entrepreneurs who already have an idea for a new product? Where to start and do you think the venture building cooperation model is the right way to go?
Certainly good, but not the only right one. I assume that the only right way is the one that doesn't make a mistake. If you have the opportunity to work with someone who has more experience - whether it's in the area of creating investment contracts, building teams or products - you should definitely take advantage of their help and knowledge. As for advice for young entrepreneurs, I would like to recall the words of Mark Zuckerberg, with which I identify: "The biggest risk is not taking any risk".
Thank you for the interview and good luck :)