A Glimpse Into The Mirror World: What Are Its Benefits And Risks?
Karolina Kondrak
14 min of reading
The concept of a "mirror world" is an exciting one, often evoking thoughts of a parallel universe or science fiction. While the idea of a mirror world has been explored in science fiction for many decades, recent advances in technology have made it a more plausible concept in real life.
New Worlds Ahead
This year's Trend Map, an analytical tool published by the infuture.institute and indicating where the world is heading on the basis of an aggregation of trends in time perspectives (short, medium and long term), has identified five megatrends.
According to the authors, the most important of these, in fact described as the axis of the entire map linked to the largest number of other trends, is the Mirror World. This is a clear demonstration of how progressive digitalisation and technological growth are changing our world on multiple levels: social, political, economic and even biological.
In a brief by Delloite "Leading Through an Age of Discontinuity" the authors described fundamental challenges and new opportunities that are unfolding across multiple domains of our lives thanks to the technological impact. They have named new worlds due to emerge in the coming decade "each likely to result in markets worth trillions of dollars and generating stunning new promise and new challenges".
One of them is the Mirror world and the report captures the possibilities and challenges ahead:
"technology will continue to create an increasingly comprehensive "digital twin" of our world, engendering new forms of communication, social intercourse, innovation, prototyping, and community formation. This promise of Mirror World greatly expands new opportunities to deploy digital technology to create solutions to our toughest problems. But without careful consideration, it also has the potential to sustain and amplify the biases, disinformation, isolation, cyberattacks, and other societal challenges we experience today."
Let's have a deeper look at the concept behind the Mirror world and the potential opportunities and threats connected to it.
What is Mirror World
So, what exactly is a mirror world? Simply put, it is a digital twin of the physical world, a virtual representation of reality that mirrors the physical environment in real-time. This mirror world can be accessed and manipulated through various digital interfaces, such as augmented reality (AR) and virtual reality (VR) devices.
Given how widespread the use of technology is in everyday life, there is a good chance that you have already experienced the mirror world in some form or piece of it, as the concept has been around for quite some time and is evolving. But it has gained more attention in recent years due to advancements in technology.
For example, the development of Google Earth, a digital mapping service that provides a 3D representation of the world, can be considered an early form of a mirror world. Other technologies, such as 3D scanning, computer vision, and machine learning, have also contributed to the development of a more comprehensive mirror world.
Now, let's browse through other possible applications and some real life examples of the mirror world.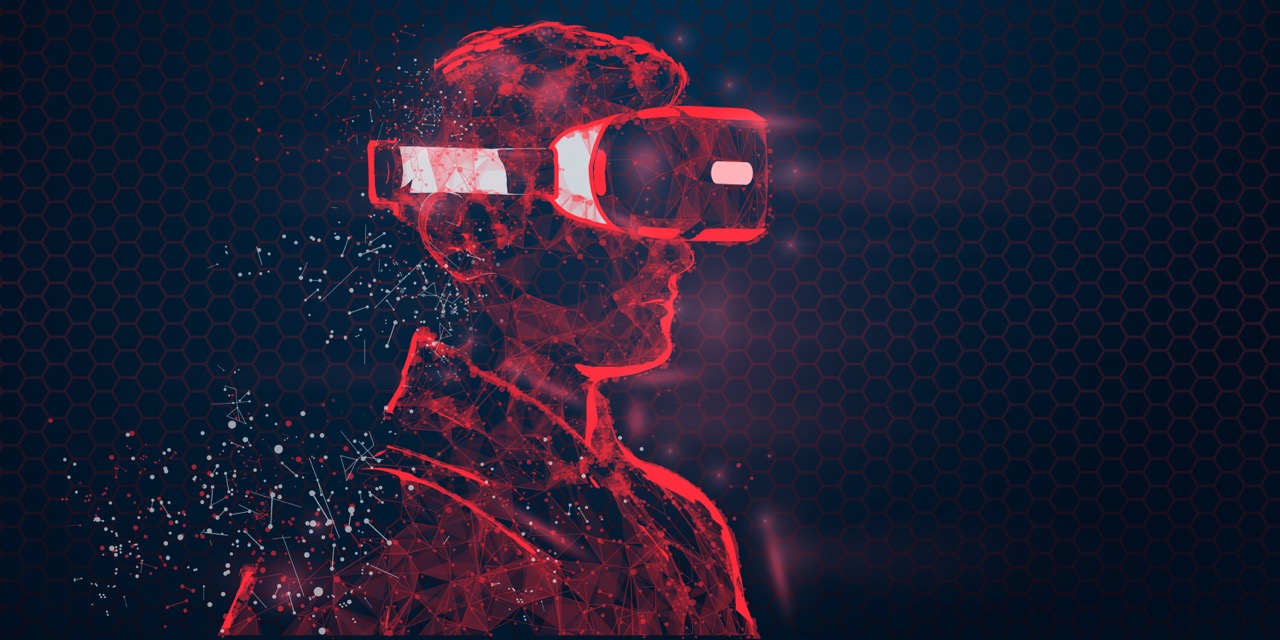 The opportunities and use cases
Urbanisation
The potential applications of a mirror world are vast and varied. One of the fields where it can play a vital role is architecture and urban planning. Typically, urban planning and development processes are analog, which means they rely on traditional, non-digital methods. Urban planning and development procedures currently in use are characterized by being lengthy, arduous, and costly, which can make it difficult to implement them on a large scale.
Architects and city planners can use the mirror world for smart city planning: to create virtual models of buildings and cities, digital twins, allowing them to explore and prototype different design options and choose the best one, all this in an efficient, comprehensive way. The 3D models will allow for visualizing the spatial impact of the building in its surroundings. This will help understand better and test the impact of various factors, such as a building's impact to its surroundings, a project's impact on a landscape view, traffic patterns, and flow, and sunlight. This can also include analysis of traffic energy usage, and environmental impact, as well as identifying areas for improvement and optimization and as well as predicting and managing maintenance and repairs.
Mirror world technology can be used to support emergency response planning and operations, providing real-time information on the location and status of people, buildings, and infrastructure. This can include predicting and managing the impact of natural disasters and other emergencies, as well as facilitating communication and coordination among first responders.
Mirror world technology can be used to engage citizens in the planning and management of cities, providing access to information and tools to participate in decision-making processes. This can include virtual town halls, online surveys, and interactive visualization tools to help citizens understand and provide input on urban planning and policy decisions.
Use cases based incorporating the concept of Mirror world:
The Municipality of Fällanden
The municipality Fällanden, Switzerland, needed a better way to visually present their spatial planning for public areas, including plans to renovate the town hall and create a new meeting place. They hired an architecture firm to lead the construction projects and a company experienced in mirror world services, Nomoko. To help visualize the building projects Nomoko used their drones to capture 5200 high-resolution images of an area of around 2.9 kilometers. The images were converted into a digital twin of the municipality, with CAD models of the planned buildings and renovations created in collaboration with SKW. The result is a comprehensive and accurate visual representation of the proposed changes to the public area in Fällanden, the highresolution, photo-realistic visuals and the possibility to simulate different light irradiations and weather situations. The models provide an interactive visualization of the planned buildings to its residents. This approach has resulted in improved clarity, faster decision-making, and greater community participation in the project.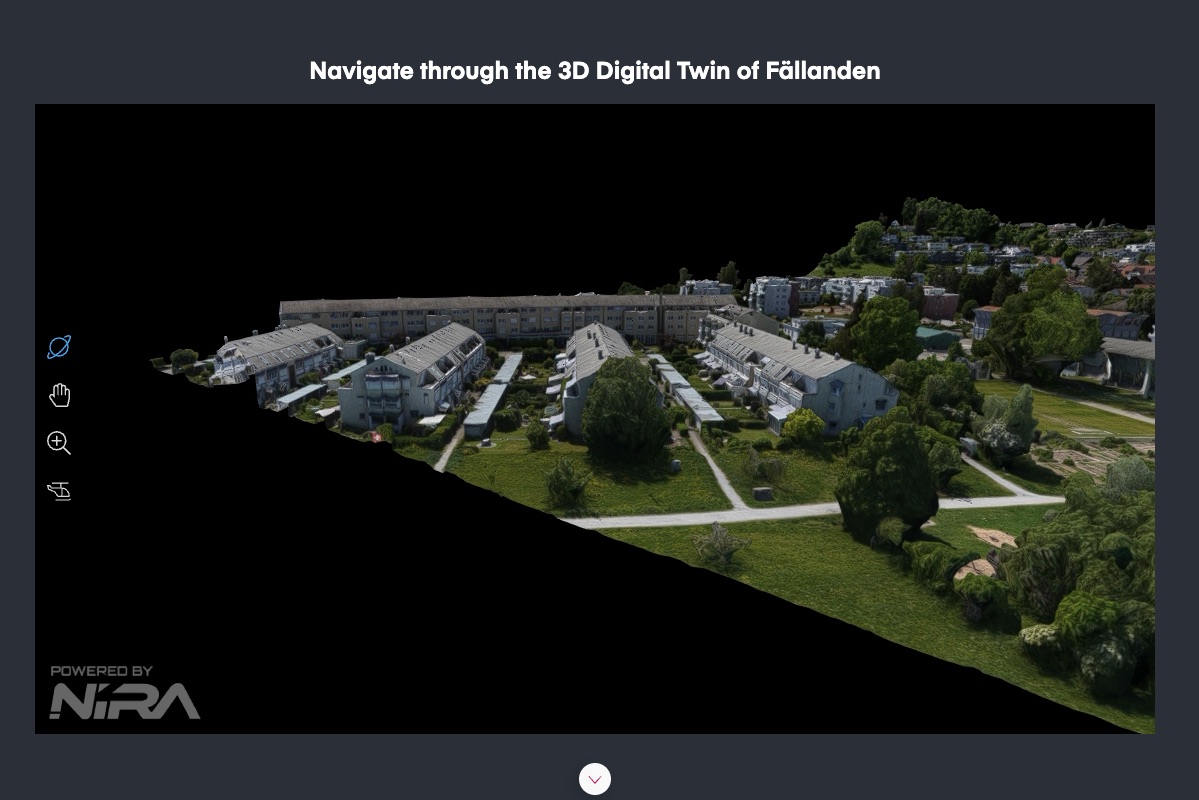 The navigation panel of Nomoko platform for the digital twin of Fällanden. Source: Nomoko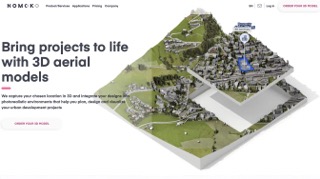 Namoko's services incorporate mirror world concepts like photo-realistic visuals in spatial context. Source: Nomoko
Google Earth is a web-based tool that allows users to explore a 3D digital representation of the Earth. It uses satellite imagery, aerial photography, and GIS data to create a realistic and interactive map of the planet.
Microsoft Mesh is a mixed reality platform that allows users to create and interact with virtual environments that mirror the real world. It uses advanced computer vision and AI technologies to create lifelike avatars and immersive experiences. VR headsets may help get the best experience but are not mandatory. The platform allows for customizing your virtual appearance, avatars.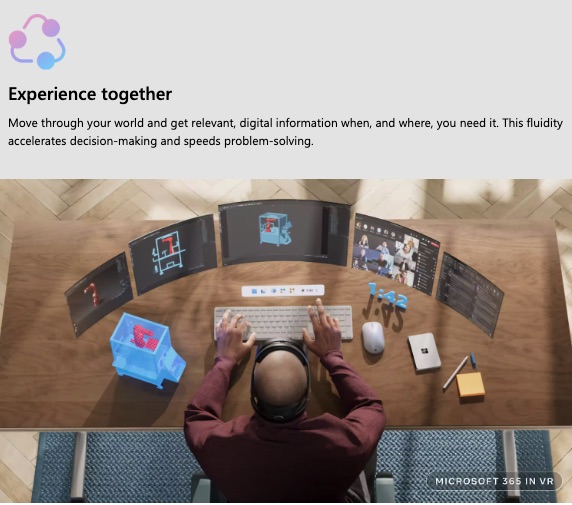 Microsoft Mesh platform for mixed reality and more immersive experiences. Source: Microsoft.
CityGML is an open standarised data model, 3D city modeling format for the representation, storage, and models of 3D urban objects and landscapes. It provides a standardized way to describe and exchange information about buildings, roads, parks, and other features of the built environment. It was issued by the voluntary consensus standards organization Open Geospatial Consortium.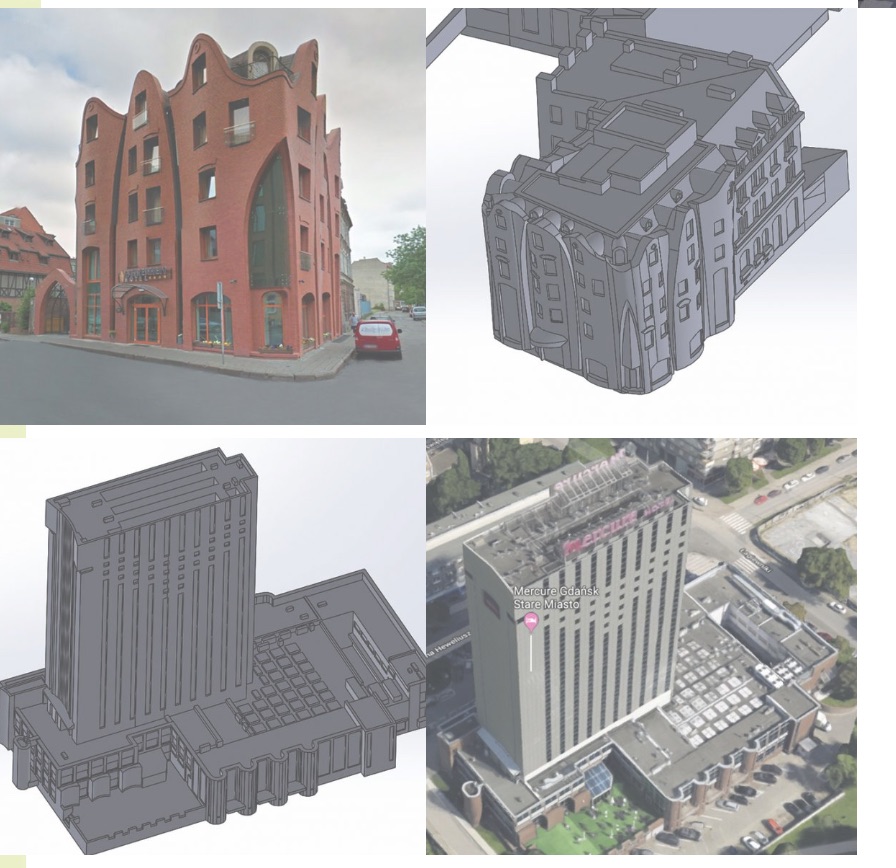 RapidCrafting provides professional creation of digital urban models based on the CityGML standard. Source: RapidCrafting.
Unity MARS is an augmented reality platform that allows developers to create apps and experiences that interact with the real world. It uses computer vision and machine learning to understand the physical environment and map virtual objects onto it.
Education
Another potential and extremely exciting application is in the field of education. This one is very promising: learning through experiencing. A mirror world could be used to create immersive learning environments, allowing students to explore and interact with historical sites, natural landscapes, and scientific phenomena in a way that is not possible with traditional textbooks. No more boring lessons and lectures!
Think about virtual field trips that allow students to explore real-world locations and interact with digital representations of objects and environments. Mirror world can enhance learning a lot through realistic simulations and training environments for a wide range of subjects, from healthcare to aviation to engineering. This will mean students can have hands-on experience in a safe and controlled environment.
Next idea is to create digital libraries and museums that allow students to explore historical artifacts, artwork, and other cultural treasures in a virtual environment. This can provide access to resources and immersive and engaging learning experiences that are not limited by physical constraints.
Use cases based incorporating the concept of Mirror world:
The most comprehensive tool is most probably Google Arts & Culture. It is a rich digital resource that offers endless opportunities for exploration of the arts, science, history, and technology.
With its 360° and 2D imagery, the platform allows users to take virtual tours of museums and historical sites from anywhere in the world, making it an excellent tool for both in-person and remote learning.
In addition to tours, Google Arts & Culture offers subject-related material and lesson plans, making it a valuable resource for educators. You can search for a specific tour or browse through by subject: arts, natural history, science and technology, geography, history and enjoy ready-made programmes. Take your class to the painting tour with Frida Kahlo, visit MoMa, or take a quick trip to Mars or to the past such as a World War I lesson based on the Google Earth tool. An internet connection is all they'll need.
A "World War I: Around the Globe" lesson via Google Arts & Culture App. Source: Google Art & Culture
3D4Medical offers an app called Complete Anatomy that allows students to explore the human body in 3D. The platform allows for virtual dissection, provides very intricate structures and layers, set of over 25 interactive microscopic anatomy models, and interactive learning. It also offers complete courses using their technology.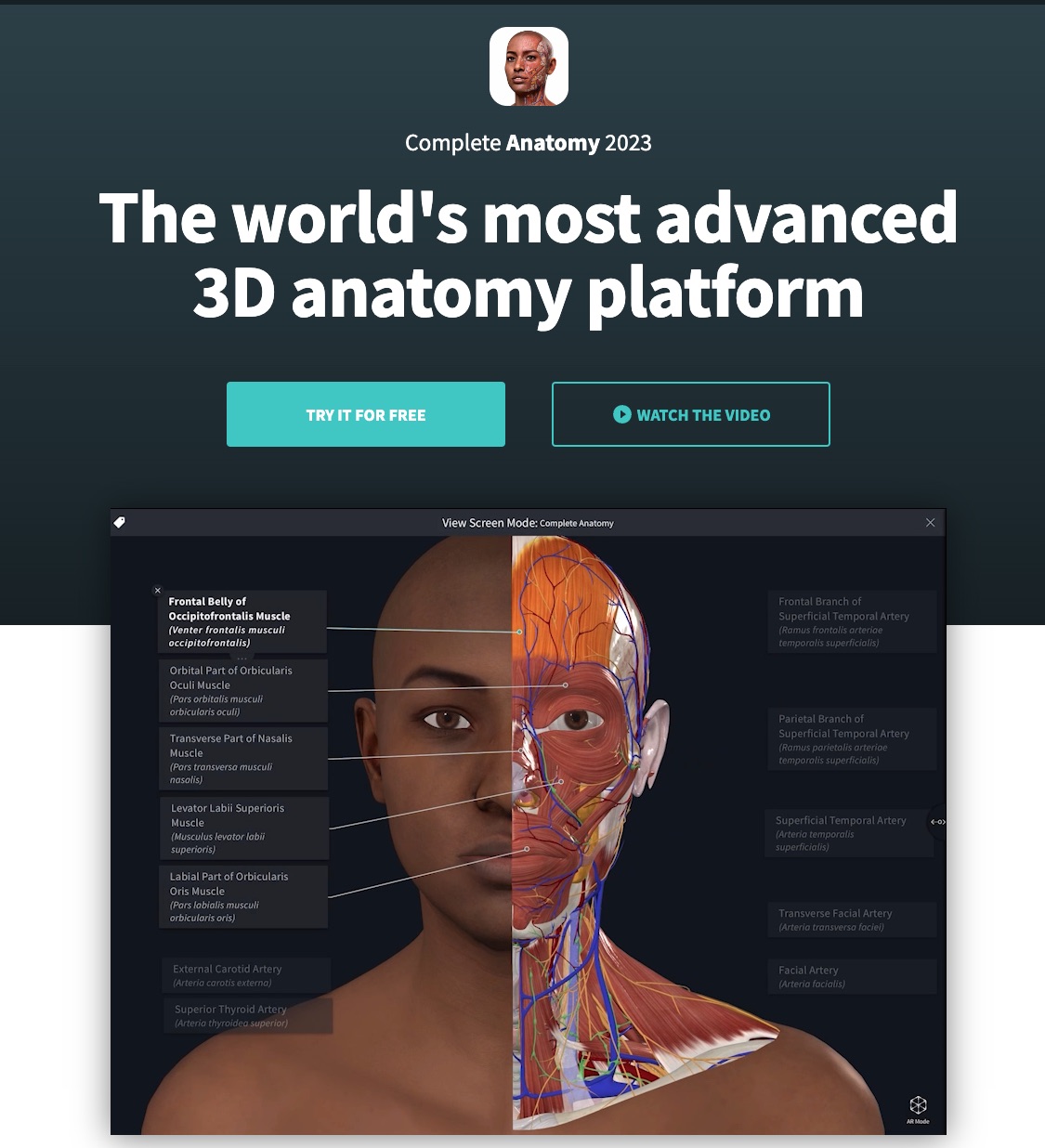 Part of the interface fo the 3d4medical's app Complete Anatomy. Source: 3d4medical.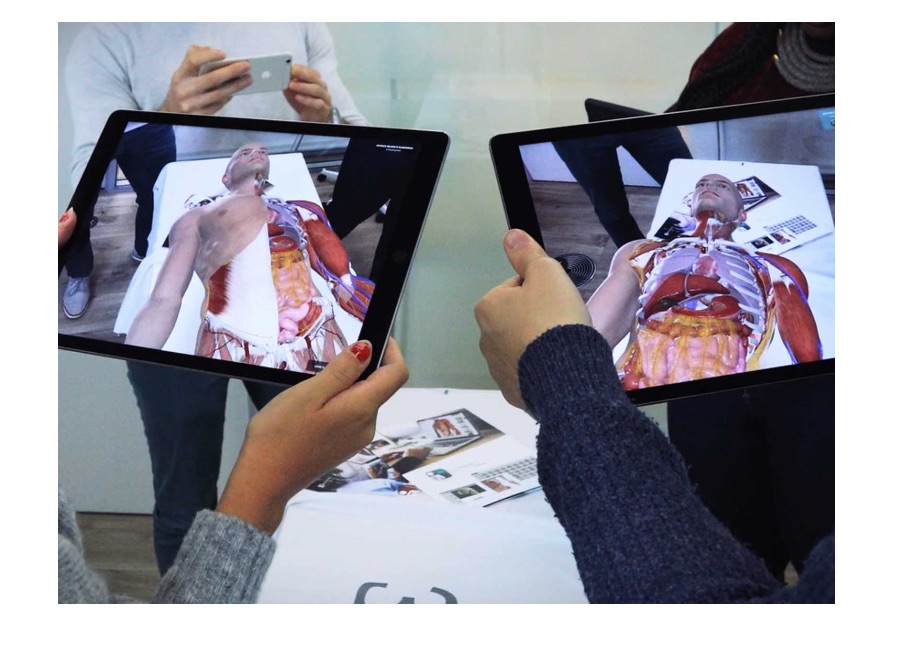 Dissection via Complete Anatomy app. Source: 3d4medical.
Immerse: Language Learning.
The company creates immersive language learning experiences, allowing students to practice their language skills in a realistic environment. For example, Immerse offers an immersive platform that allows students to interact with native speakers in live VR classes for a fully contextualized learning experience.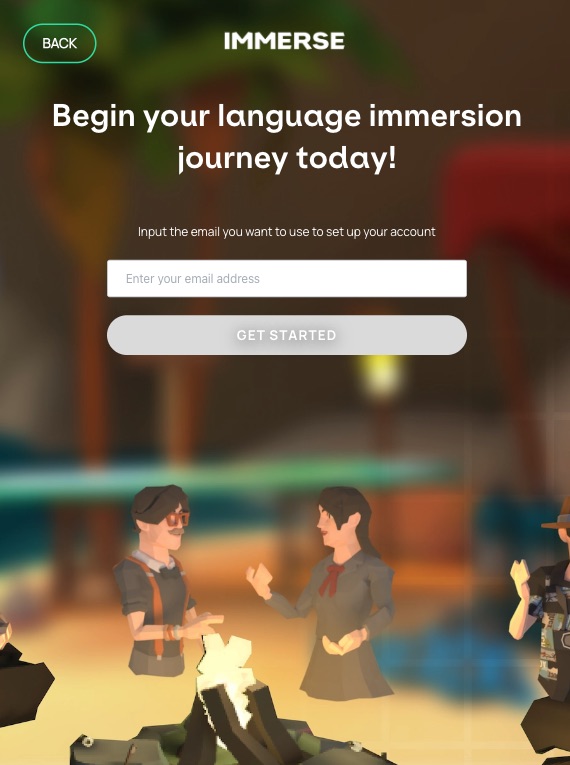 Immerse allows for lessons with native speakers around the world through VR classes. Source: Immerse.
Entertainment, tourism and sport
This one is rather obvious. The entertainment industry is very likely to benefit from the development of a mirror world. As AR and VR devices become more commonplace, a mirror world could provide a platform for enriching the entertainment as we know it: think about attending concerts, galas, watching exhibitions or "going" to the theater on the other side of the globe. New forms of entertainment, such as immersive gaming and interactive storytelling are also in the pipeline. Mirror world technology can be used to promote tourism and economic development by creating virtual representations of cities and landmarks that can be accessed from anywhere in the world. This can include virtual tours of cultural and historical sites, as well as promoting business opportunities and investment in urban areas.
Use cases based incorporating the concept of Mirror world:
Google Arts & Culture app
Again a good example will be Google Arts & Culture app. The precursor to this was Google Expeditions. It offered virtual field trips to places like the Great Barrier Reef, the International Space Station, and the Colosseum. Due to the limited access to VR equipment Google decided to move most of Expedition's virtual tours to the Google Arts & Culture app, where the content is available for everyone.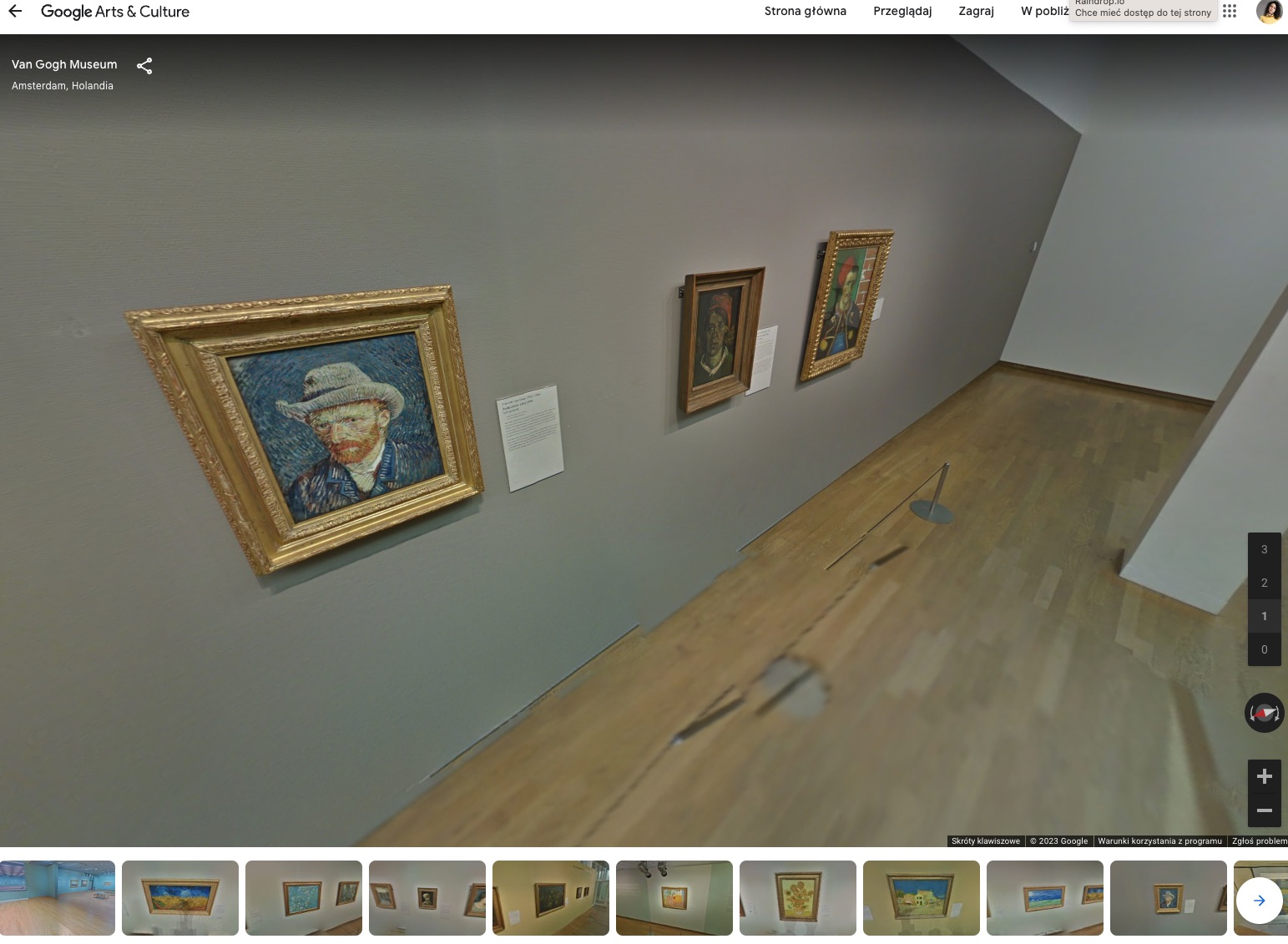 A Digital tour in Van Goghs museum via Google Arts & Culture App. Source: Google Art & Culture
Adidas Terrex x Somewhere Else
Somewhere Else collaborated with Adidas to create a virtual reality (VR) experience that showcases the brand's line of outdoor sports gear called TERREX. They wanted to capture the thrill of extreme outdoor climbing and challenge customers to push their limits. To achieve this, they used Google's next-generation Jump VR camera rig to film two accomplished climbers, Ben Rueck and Delaney Miller, as they climb a multi-pitch climb in Corsica. Renowned climber and photographer, Jeff Rueppel, collaborated with them. The 360-degree stereoscopic footage was complemented with 3DAR's interactive CG, enabling users to appreciate the scenery and observe the entire climbing route. The experience was launched in China, where Adidas has over 50 TERREX-specific stores, as part of a retail roadshow that toured ten key cities until the end of November 2017.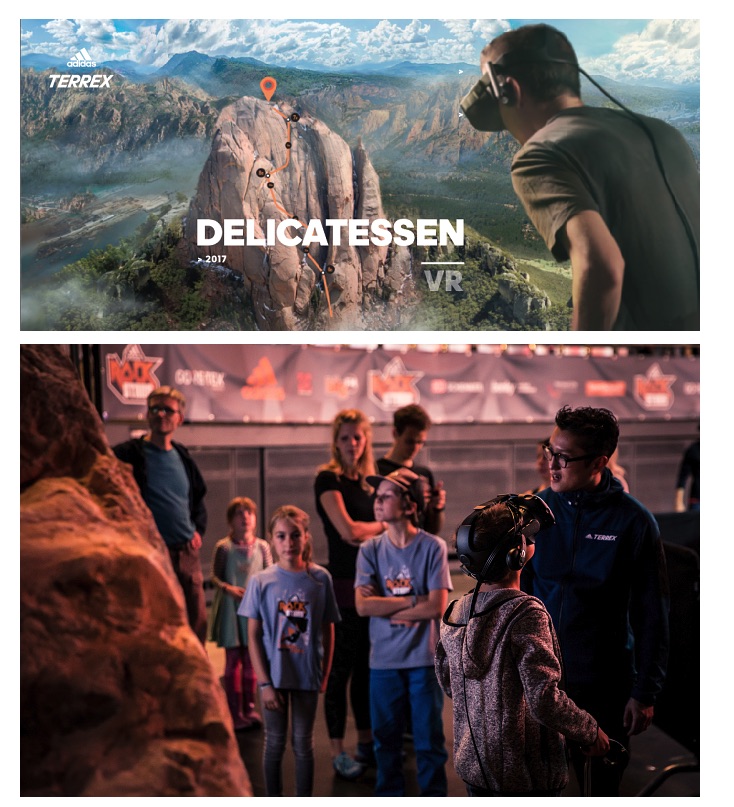 The clibing experience in VR in Adidas Terrex retail roadshow. Source: CreativePool.
Commerce, retail, marketing
The mirror world, together with AR and VR, also have enormous opportunities in commerce. So, the mirror world technology can be used to create virtual products visualizations, representations of products, allowing customers to see and interact with them in a realistic and immersive way. This can include virtual showrooms, product demos, and customization tools. Chances are you have already used it. Have you ever tested AR via your smartphone: placed virtual furniture in your home to see if it fits? Tried out what hairstyles or glasses suit you best? Checked how a new T-shirt might look on you? And this is only the beginning.
Another big change can be related with the world of retail and marketing through creating personalized and immersive shopping experiences. Customers can now interact with products and brands in a virtual environment, including virtual storefronts and personalized recommendations based on their preferences. Augmented reality marketing campaigns might take engagement to a whole new level, bringing products to life in a way that was once impossible. With mirror world technology, retailers can provide unique and exciting experiences that keep customers coming back for more.
Use cases based incorporating the concept of Mirror world:
Ikea has developed an augmented reality (AR) app that allows customers to virtually place furniture, in 3D and true to scale, in their home before making a purchase. By using mirror world technology, the app can create a realistic representation of how the furniture would look and fit in the customer's space, helping them make better purchasing decisions.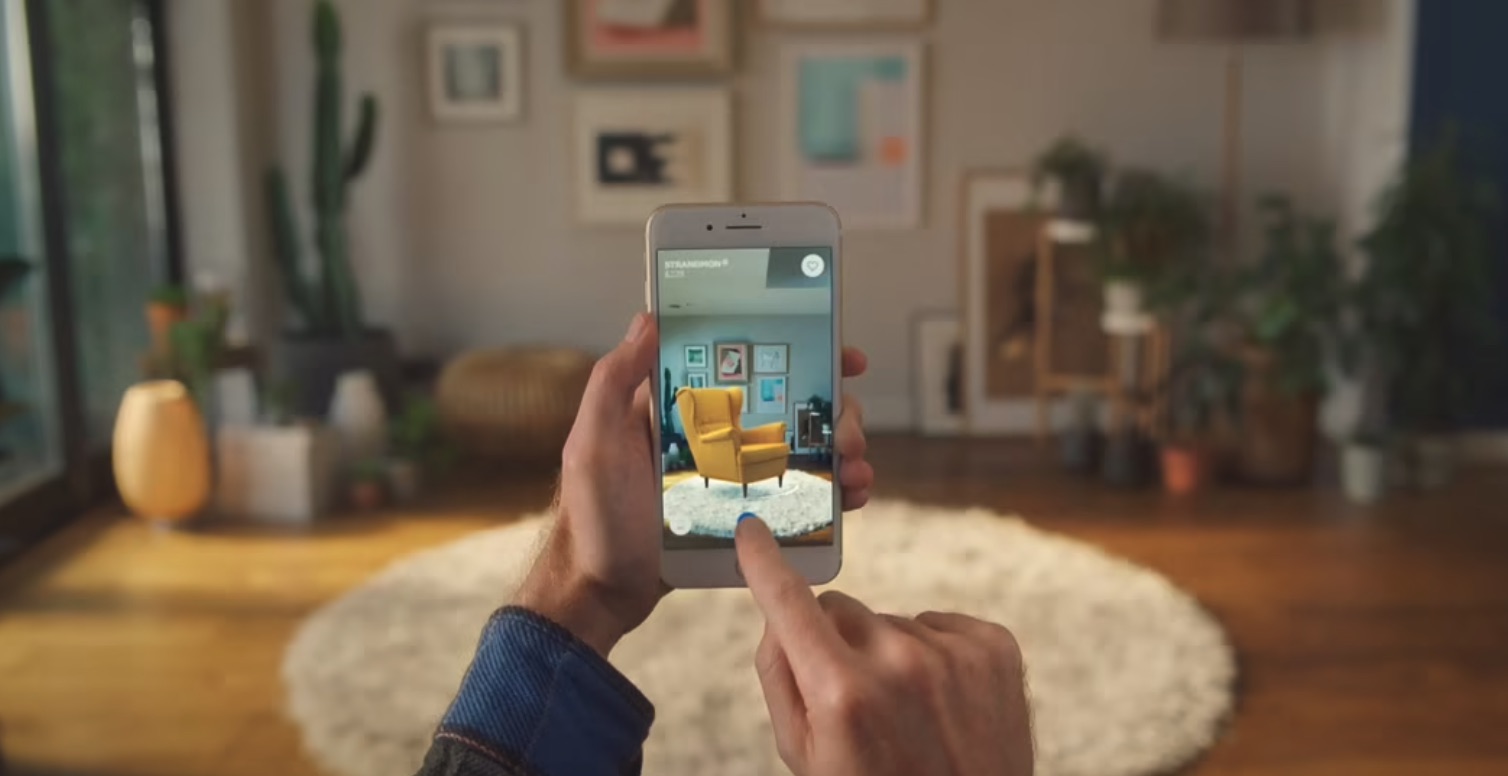 IKEA's app lets customers virtually "place" IKEA products in their space. Source: IKEA.
Sephora's Visual Artist App
Sephora, a leading beauty retailer, has developed a virtual try-on experience. Thanks to facial recognition technology, customers can use the app to see what different makeup products would look like on their face, without having to physically apply the product. This personalized and immersive experience has proven to be a popular way for customers to discover new products and make informed purchasing decisions.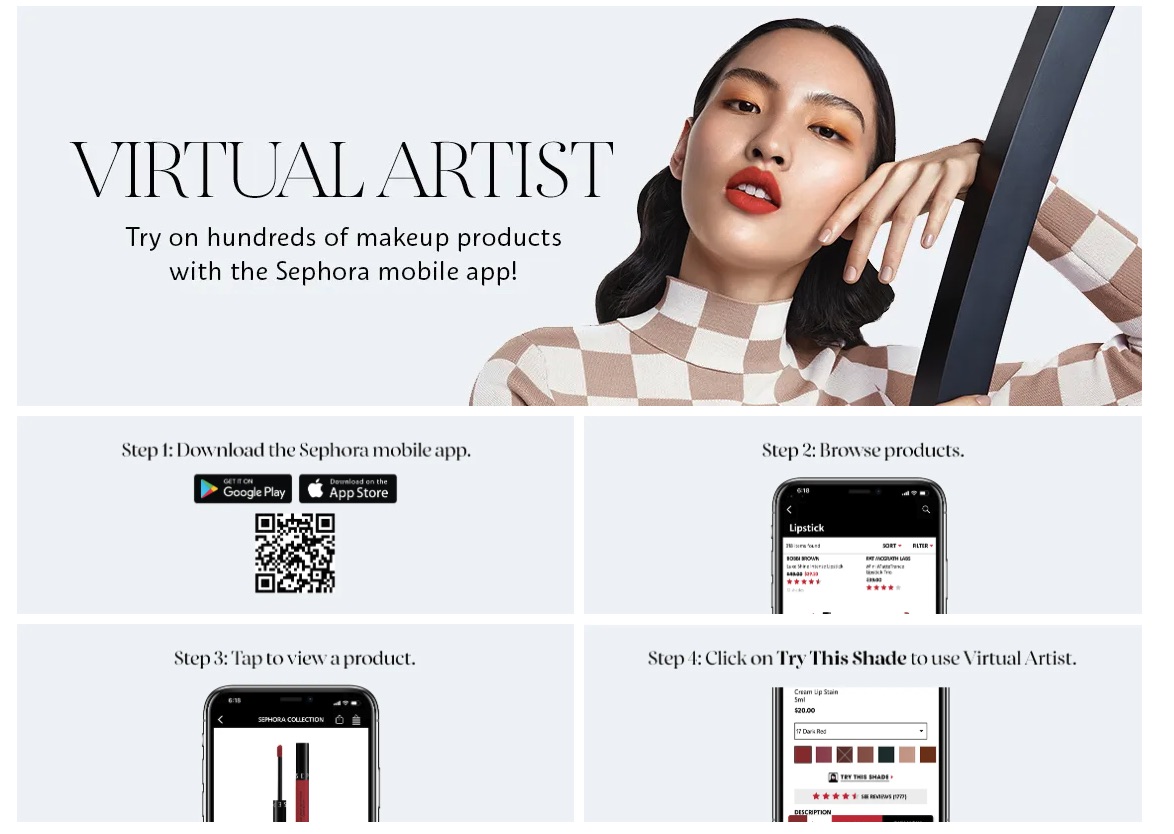 The Sephora Virtual Artist app, you can get a virtual makeover. Source: Sephora.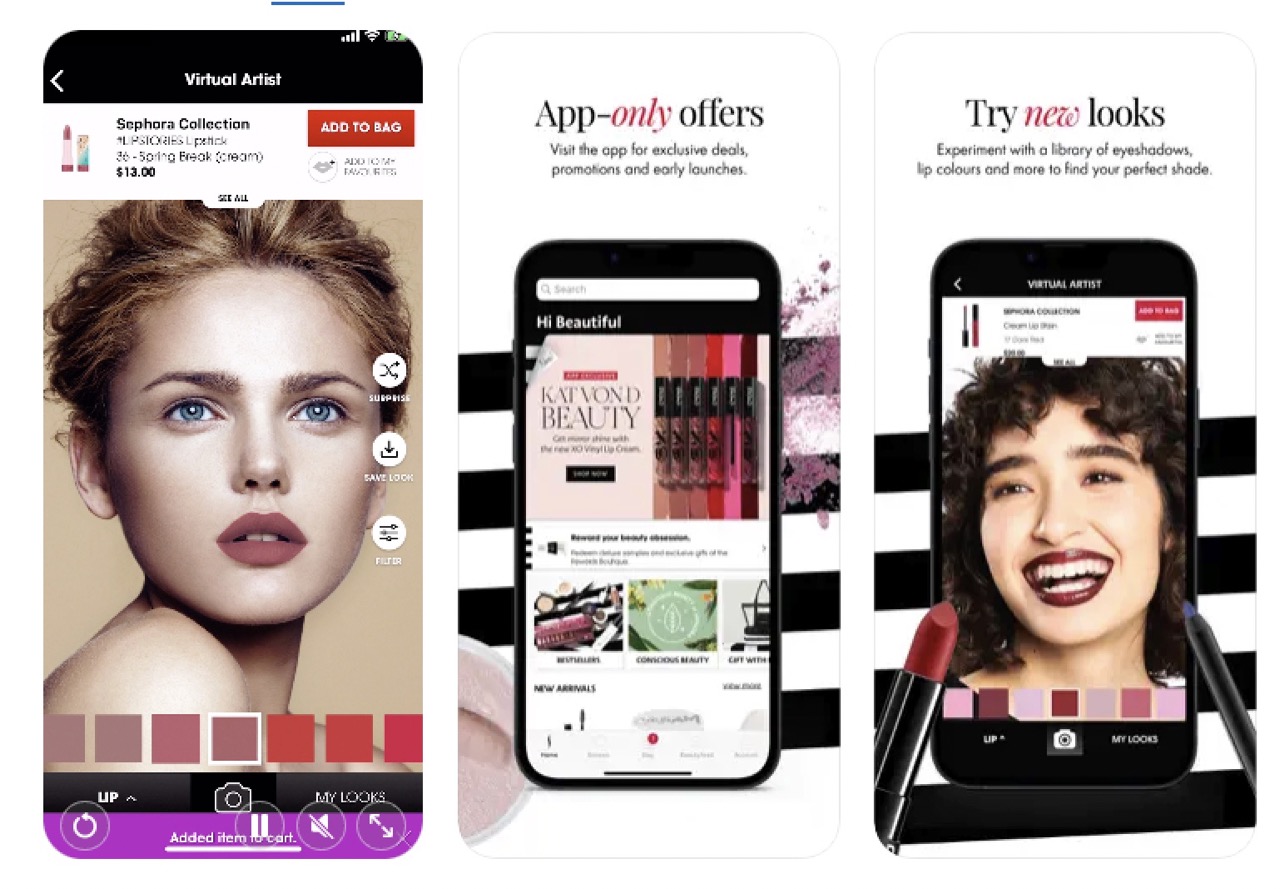 The Sephora Virtual Artist app, you can get a virtual makeover. Source: Sephora.
Real estate
Mirror world technology has a big potential to influence the real estate industry by allowing buyers and sellers to experience properties in a completely new, immersive way. With virtual representations of real estate properties, buyers and sellers can explore and interact with them in a virtual environment, from the comfort of their own homes or offices. It will be a great feature for developers who want to present buildings sold while still in the construction or planning phase. The mirror world experience includes virtual property tours, interactive floor plans, and 3D modeling tools for architecture and design.
These immersive testing provides a more comprehensive understanding of the property, allowing buyers to visualize the space and imagine themselves living there. For sellers, this technology provides a powerful marketing tool to showcase their properties in a more engaging and compelling way. As mirror world technology continues to evolve, we can expect to see even more innovative solutions for the real estate industry.
Use cases based incorporating the concept of Mirror world:
This company is developing an infrastructure for a concept called the Mirror World, which aims to facilitate the Fourth Industrial Revolution. By providing spatial context to information, the Mirror World will enable integration between the digital and physical worlds. It shall have various applications, including augmented reality on a city-wide scale, spatial contracts, autonomous vehicles, smart cities, gaming, and urban planning. Nomoko's infrastructure is created based on the idea of allowing individuals to create Mirror World-based applications and allows for the addition of data to the Mirror World by anyone.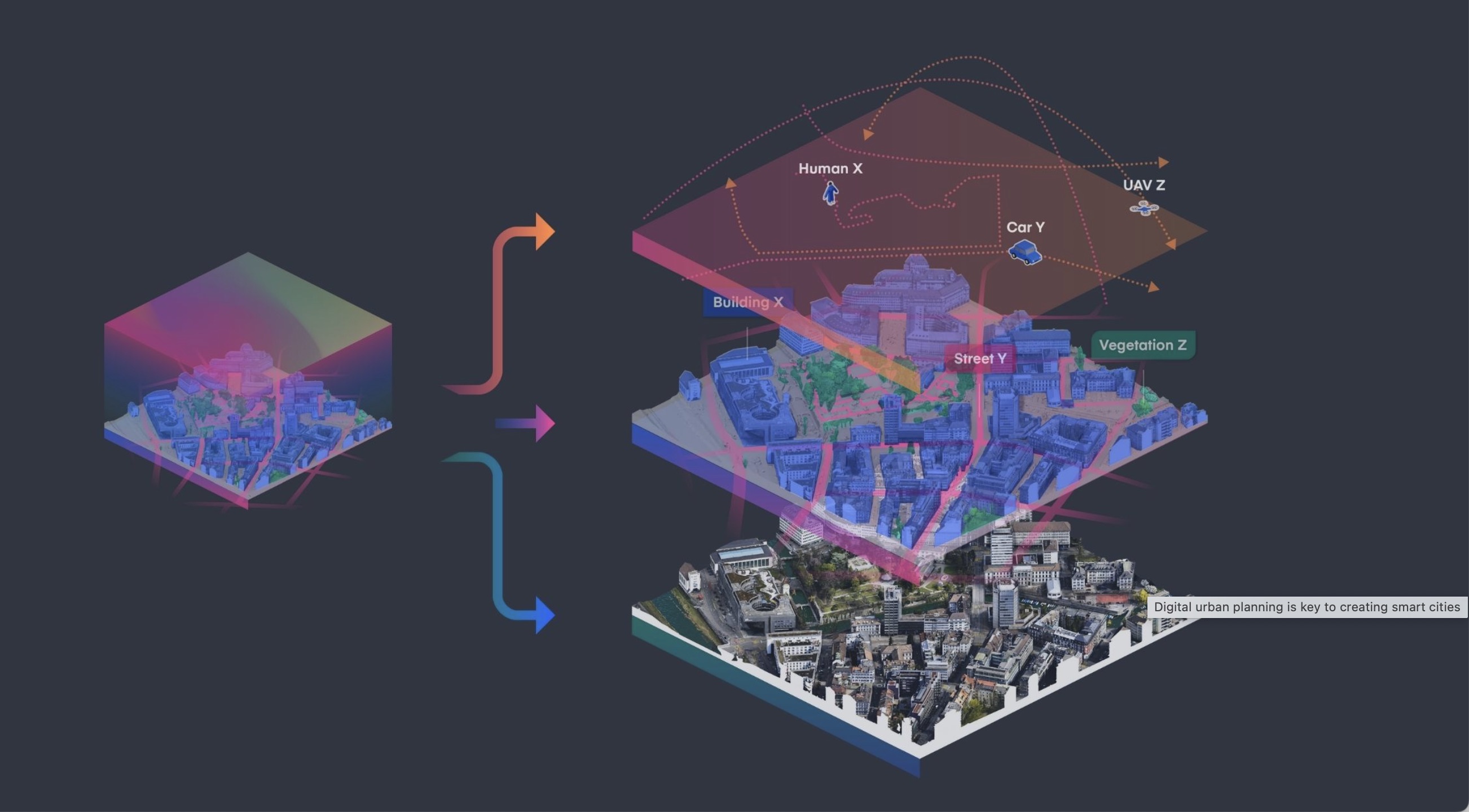 Namoko's 3D models incorporate layers of spatial, building and other types of data that add benefits for every stakeholder. Source: Namoko.
Potential issues
Of course, there are also potential downsides to the development of a mirror world. One concern is the potential for addiction and loss of connection to the physical world. Another is the possibility of privacy violations, as individuals' movements and actions in the physical world could be tracked and recorded in the mirror world.
Differences between the mirror world and metaverse
There is one potential misconception that should be clarified here. What is the difference between metaverse and mirror world? Both concepts make a lot of buzz in the media from time to time. Both are based on very similar concepts and have a lot in common: they are related to virtual environments. So how do they differ and what is the key distinction?
A mirror world is a digital replica of the physical world, a virtual representation of reality that mirrors the physical environment in real-time. This mirror world can be accessed and manipulated through various digital interfaces, such as augmented reality (AR) and virtual reality (VR) devices. The focus of a mirror world is on creating a digital copy of the physical world, with a high degree of accuracy and realism.
On the other hand, a metaverse is a fully immersive virtual world that is not necessarily based on the physical world. It is a shared space where users can interact with each other and with digital objects and environments in real-time. In a metaverse, users can create and customize their avatars, engage in social activities, and participate in a wide range of experiences, such as gaming, education, and commerce. Unlike a mirror world, the focus of a metaverse is on creating a new, immersive world that is not constrained by physical reality.
Another important difference between the two is the level of interactivity and immersion. While a mirror world can provide a realistic digital replica of the physical world, it is generally not as immersive or interactive as a metaverse. In a metaverse, users can engage with other users in real-time, explore new environments, and participate in a wide range of experiences, creating a much more engaging and interactive experience.
What's next
Overall, the concept of a mirror world is an intriguing one, with the potential to revolutionize many aspects of our lives. While there are certainly challenges and potential downsides to consider, it is exciting to think about the possibilities that a more comprehensive mirror world could bring.