UX vs UI, and PO in the background. What connects them, and what differs?
Wojciech Sroka
3 minutes of reading
Even though UX, in other words user experience, is not an entirely new field, for many people it still sounds quite mysterious. What exactly is user experience designing and why under no circumstances should it not be confused with interface designing?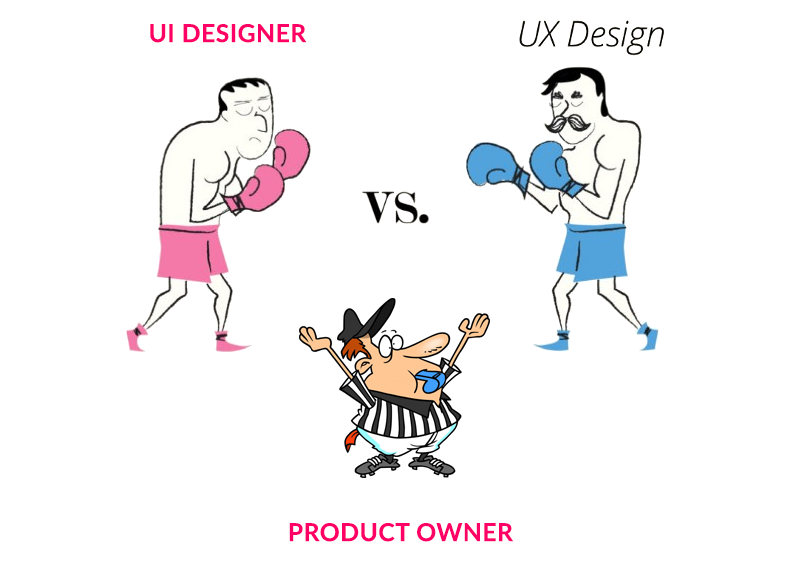 UX, UI… What's the difference?
Experience designer, UX researcher, UI designer… Despite the fact that everyone came across these job titles, only few people know exactly what their field of expertise is. It turns out that the role of each of them is quite precise. But let's start with the definition of user experience itself.
User Experience is – as Don Norman defined it back in the 90s – "all aspects of the final user interaction with the company, its services and products." Which is why the person who is to design this experience, first needs to study deeply potential customers, together with his needs, problems and expectations. Based on that, a designer can create a product which will deliver to the user whatever he lacks in his life.
Meanwhile, the work of UX Designer is often misunderstood as interface design which is the creation of the final, visual look of the product. An aesthetic side of the project is the responsibility of a UI (User Interface), a person replaces UX project - in cases of website and apps- with real graphic solutions.
But let's come back to the issue of getting to know the user. On the one hand, it is worth knowing which browser he uses and whether he prefers a mobile or desktop version of the website. On the other hand, it would also be good to know what his most important expectations and problems are… However, neither the client nor the data from Google Analytics will provide us with this information.. So where can we get it?
UX research, for whom do we design?
A UX researcher, or in other words an experienced researcher, is a person with a task of collecting as much information, about the potential users of our product, as possible. For this purpose, the researcher conducts quantitative (e.g. surveys) and qualitative (e.g. in-depth interviews) research on a group of respondents and prepares answers to questions on their basis, e.g. about the exact needs of users or what is causing them trouble. Based on this data, UX designer creates solutions which later are visualised by the UI designer.
UI/UX Designer, that is...UX, UI and researcher in one person?
Even though in many small enterprises the experience designer is responsible for all, examining the user's needs, finding a solution and graphic design, in more and more workplaces all these tasks are divided between UX Researcher, UX Designer and UI Designer. Anyway, for many people the issue of applying this distinction is a kind of determinant of professionalism. After all, it is not possible for one person to be both a creative, trend-oriented UI designer, inquisitive researcher and experience designer at the same time - especially for one project.
To sum up, user experience consists of the visual and practical side of the product, as well as of the information about the potential customer. Even the best graphic designer will not be able to save from failure the app which is difficult to use and unintuitive for recipients. And on the contrary: poor graphic design can destroy many good UX Designer solutions.
However, if we need someone who can do "everything"...
Someone who can connect in his job, all previously mentioned aspects of user experience is Product Owner. He is responsible for both the draft of the project and the communication that will ensure the success of the product. These are product owners who are a kind of a link between the client and everyone who works on the project: copywriters, marketing and sales departments, designers and developers.
Briefly:
Do you have a model and have drawn every possible user's behaviour path? You need the best UI Designer.
You lack the model, but what you have is a business concept you could die for? Work on it with a UX designer.
Do you have a concept, but you would like to check and validate it for business purposes? Find a good Product Owner, who will help you transform the idea into a product.
Looking for an interesting job? See our open positions.